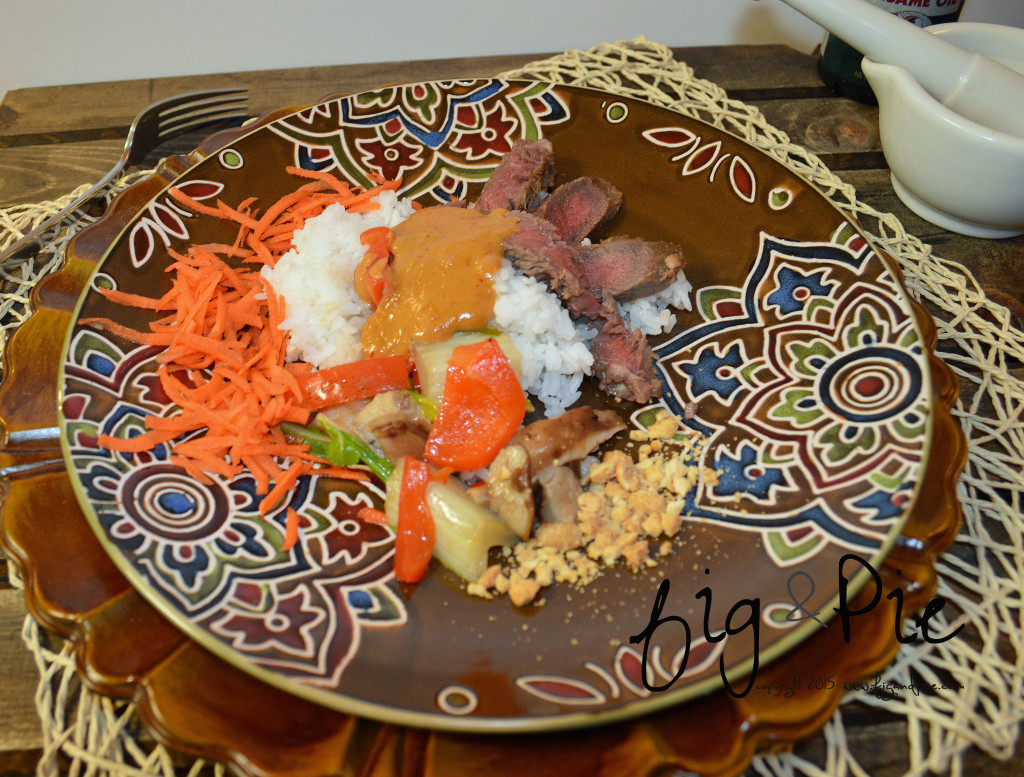 So. as you know, I make amazing food.  this recipe is pretty bomb.  I don't know if I've ever had a better beef marinade.  Lemon grass is just…amazing.  You can buy a package of the stalks at the grocery store.  I do have a few plants to ward off misquotes but they are in their winter state.  The peanut sauce is also pretty delicious…I need to figure out other recipes to use it in.  You'll probably end up drinking it, it's that good.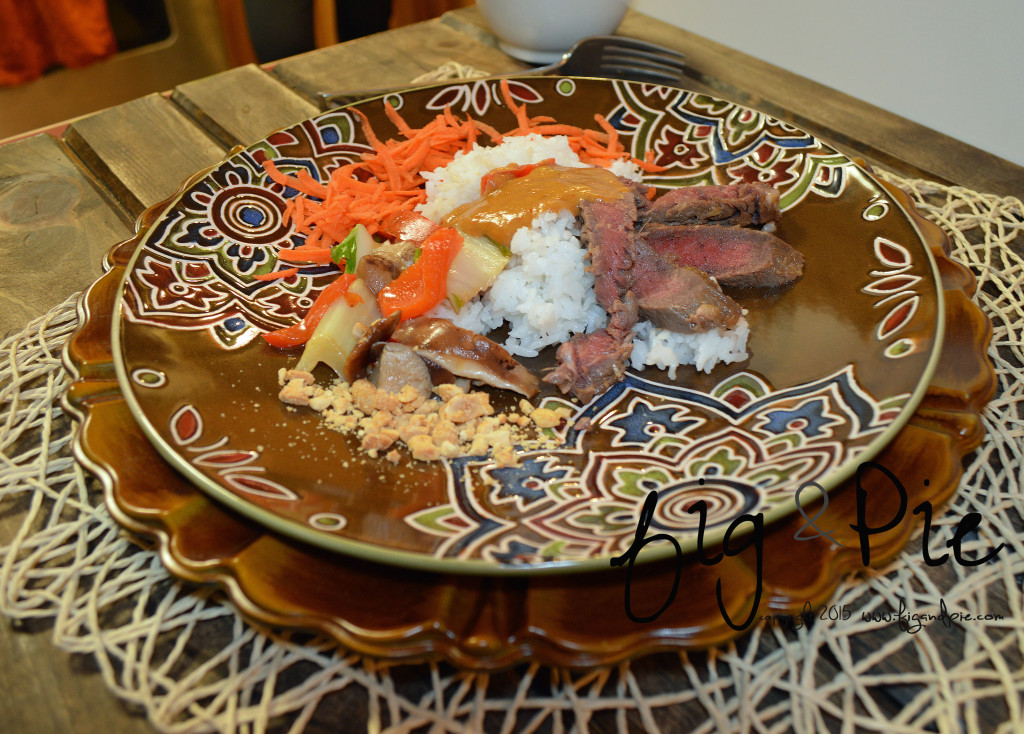 Beef Marinade
– 2-3 stalks fresh lemongrass, chopped as finally as you can
– thumb sized fresh ginger, minced
– 2 tablespoons honey
– 2 tablespoons soy sauce
– 1 tablespoon fish sauce
– 3-4 cloves garlic, minced
– 1 pound beef skirt steak, sliced thin against the grain
– 3 tablespoons peanut or sesame oil
Veggies
– sliced red chilies
– 2-3 heads of bok choy, chopped thickly
– 8 ounces shiitake mushrooms, sliced
– chopped peanuts
– shredded carrots (for serving)
– rice, 2 cups dry
Peanut Sauce
– 1 (14 ounce) can coconut milk
– 3/4  to 1 cup creamy peanut butter, depending on how peanut butter-y you want it
– 1/4 cup brown sugar
– 2 tablespoons soy sauce
– 2 tablespoons Thai red curry paste (use 1 tablespoons for less heat)
– 2 teaspoons fish sauce
Directions
1) Mix together the lemongrass, ginger, honey, soy sauce, fish sauce and garlic.  Add the sliced steak to a ziploc bag or glass bowl.  Pour the marinade over the steak, mix around to coat the beef.  Seal the bag (or cover the bowl with plastic wrap) and refrigerate overnight.
2) The next day remove the bag or bowl of beer & marinade from the refrigerator and sit on the counter until ready to cook the meat.
3) Cook the rice according to the package directions (two cups dry rice serves about 4 people once cooked)
4) Stir together the coconut milk, peanut butter, brown sugar, Thai red curry paste and fish sauce in a sauce pan.  Simmer on medium-low until warm, and then reduce heat to low.
5)  Heat up a skillet on medium-high heat.  Once hot drizzle in a little bit of peanut oil and allow the oil to warm.  Stir in the sliced red chilies and allow to cook and sizzle for a few minutes.  Add the chopped bok choy and cook for about 5 minutes.  After 5 minutes stir in the sliced skiitake mushrooms, cover the skillet with a lid and then turn off the heat.
 6) While the chilies and bok choy are cooking, heat a large skillet over medium-high heat.  Drizzle peanut oil into the skillet and allow the oil to warm.  Add the beef slices & marinade to the hot pan/oil.  Cook for a few minutes – you don't want to cook the beef all the way through.
7) Scoop out rice onto each person's plate.   Place a few pieces of the cooked beef, a scoop of the veggies, drizzle on (a bunch, because it's amazing) peanut sauce and garnish with the carrots and chopped peanuts.