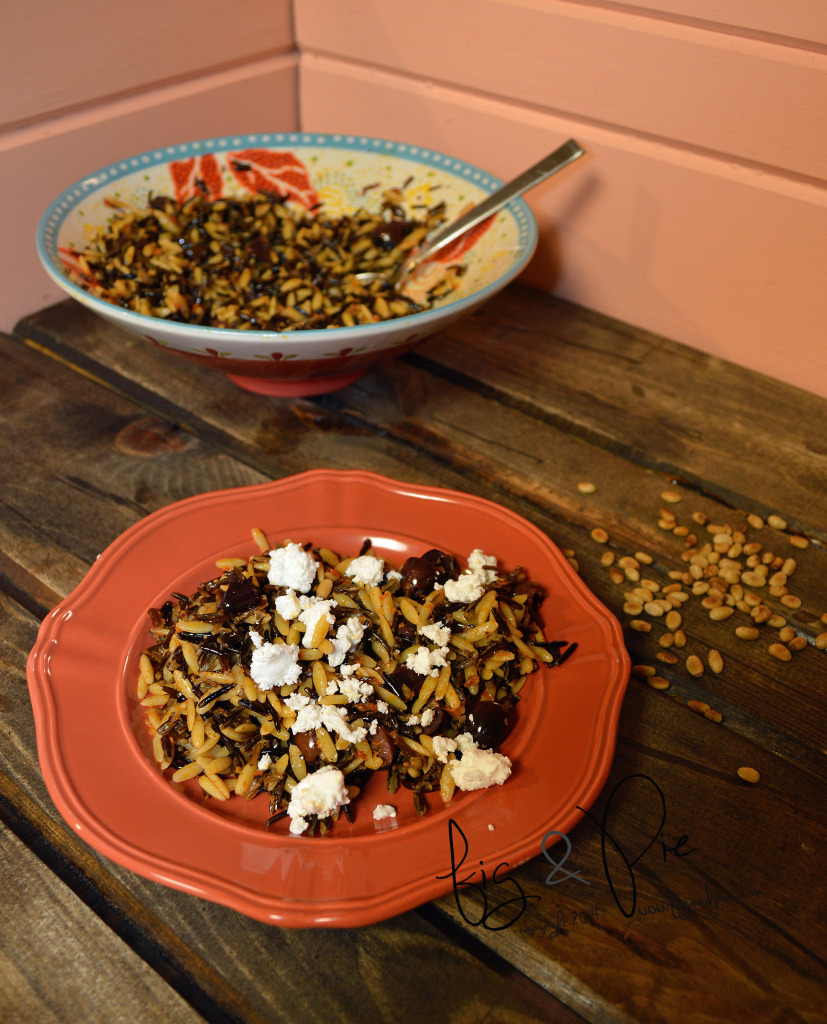 What a thought to mix orzo and wild rice!  It's a pretty good combo.  Add sun dried tomato pesto, kalamata olives, feta cheese and toasted pine nuts and it's amazing!
1 cup wild rice & water (or chicken broth) per package instructions
 1/2 cup orzo pasta & water per package instructions
coconut oil (or other high-heat oil)
1 clove garlic, minced or grated
1/3 cup kalamata olives
Sun dried tomato pesto
salt
pepper
Bulgarian feta (if you can find it, if not regular feta)
2 tablespoons pine nuts
1) Cook the wild rice according to the package directions.  It usually takes close to an hour to make in my rice cooker, so plan accordingly.
2) After the wild rice has started to cook, boil about 1.5 cups of water for the orzo.  Add the orzo once the water has boiled and cook on medium heat until cooked through (it's pasta, so it should be al dente).
3) When the wild rice and orzo have finished cooking combine and fluff in a large bowl.
4) Heat up a small skillet and toast the pine nuts – be sure not to burn them.
5) Use the skillet from toasting the pine nuts and add a bit of oil.  Reduce heat to medium-low and add the crushed garlic.  Saute for a minute until it is golden brown, be sure to not burn it.
6) Stir the sauteed garlic into the wild rice and orzo mixture; scoop out about 2-3 tablespoons of the sun dried tomato pesto and stir until combined.
7) Add a bit of salt and pepper (to taste) and kalamata olives to the wild rice, orzo, garlic and olive oil salad.  Stir to combine.
8) Scoop out the wild rice and orzo pilaf onto individual plates and sprinkle the toasted pine nuts and feta cheese over the tops.