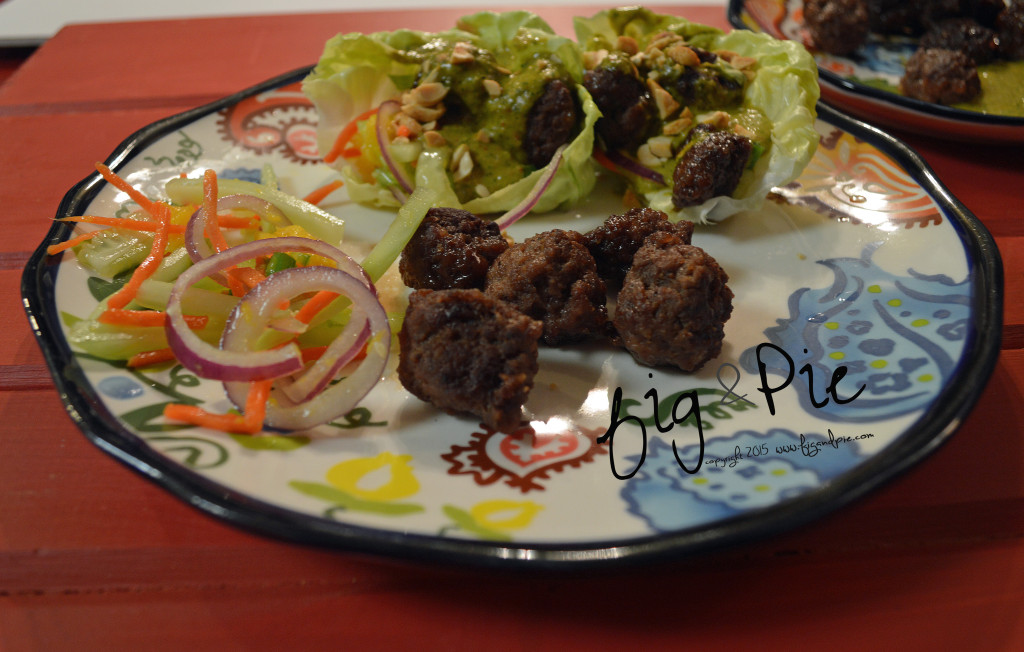 I made these last summer, and with selling a house / buying a new one and starting grad school I never had time to post the recipe.  Things have calmed down a bit, so I'm hoping to post all of my back-logged recipes and then actually photograph some new ones!
serves 4
time: close to an hour, probably
Green Cashew Sauce Ingredients
1/4 cup fresh cilantro
1/4 cup fresh basil
1 cup cashews
1/3 cup canned coconut milk
2 limes
3 teaspoons Thai red curry paste
2-4 tablespoons sweet thai chili sauce (I used 4 tablespoons)
Mango Slaw
1 mango, peeled and sliced into thin strips
handful of shredded carrots
1 cucumber, sliced into matchstick sized pieces
1 red onion, thinly sliced
1 red jalapeno pepper finely chopped
1 lime
Meatball Ingredients
1/2 pound ground pork sausage
1/2 pound ground hamburger
2 tablespoons sesame oil
2 tablespoons low sodium soy sauce
2 tablespoons fish sauce
3 tablespoons honey
Accoutrements
1 head butter lettuce
1/2 cup sweet thai chili sauce, for dipping
toasted cashews
Green Cashew Sauce Directions
Step 1: Place the cilantro, basil, cashews, coconut milk, lime juice, Thai red curry paste and sweet thai chile sauce to a food processor.
Step 2: Blend until smooth and creamy.
Step 3: Add more of the ingredients if needed.
Mango Slaw Directions
Step 1: Combine the mangos, shredded carrots, matchstick cucumbers, thinly sliced red onion, jalapeno, and fresh lime juice.
Step 2: Mix well.
Meatball Directions
Step 1: Mix the two meats together well.
Step 2: Roll into small balls.
Step 3: Cook the meatballs thoroughly.
Step 4: Stir together the sesame oil, soy sauce, fish sauce, and honey.
Step 5: Add the cooked meatballs to the sauce
Put it all together
Step 1: Place the meatballs, cashew sauce, mango salsa, and toasted cashews on a washed piece of lettuce…enjoy!!