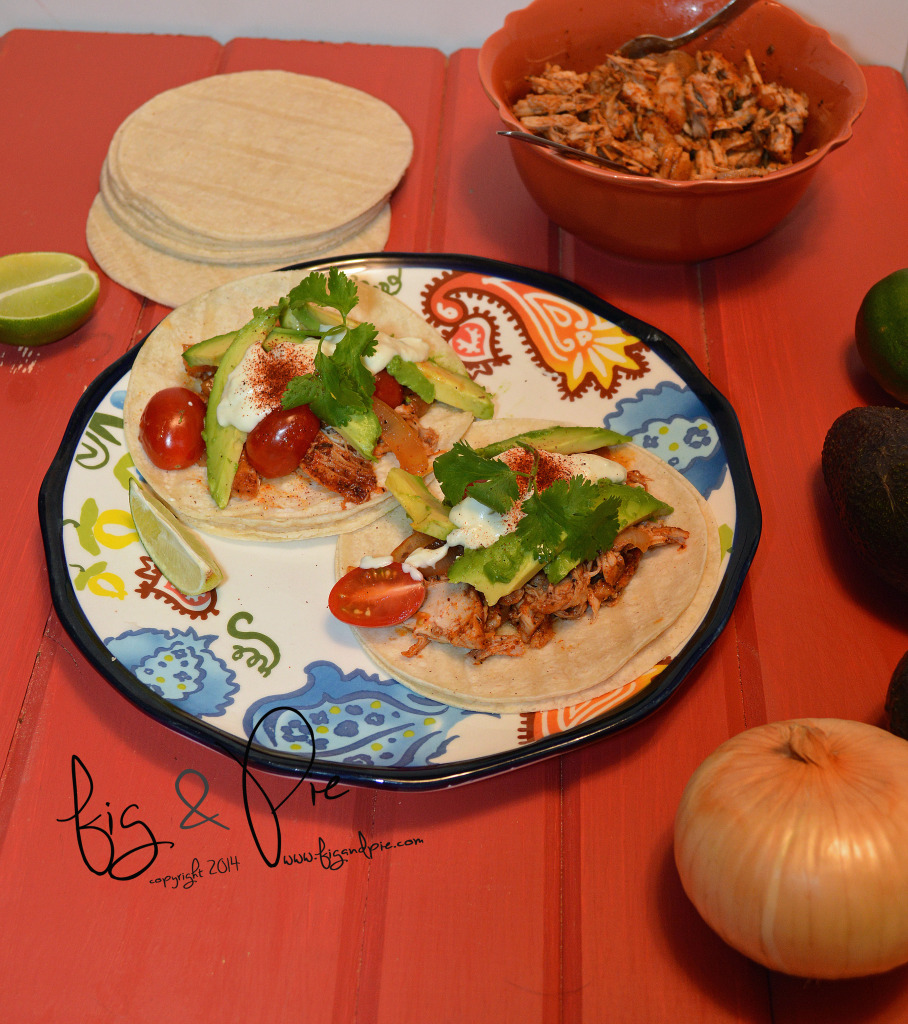 I love tacos.  I love smoke paprika and I really, really love goat cheese!  This recipe combines all of these wonderful ingredients into an amazing taco (another one of my favorites – I could eat tacos all of the time!).
Serves 4
Time: 1 hour + a little extra
Chicken Ingredients:
2 pounds boneless, skinless chicken thighs
1.5  teaspoons smoked paprika
1/2 teaspoon salt
1/2 teaspoon pepper
1/2 teaspoon cumin
1-2 teaspoons chili powder
1/4 teaspoon garlic powder
2 tablespoons olive oil
2 limes, sliced into wedges
1 sweet onion, sliced thickly into 8 slices
Spicy Goat Cheese Queso
1 tablespoon unsalted butter
1/2 jalapeño pepper, diced
2garlic cloves, minced
1 tablespoon flour
1/2 cup milk
6 ounces goat cheese, crumbled
Taco Additions

corn tortillas for serving
chopped tomatoes
sliced avocado
cilantro, de-stemed
Directions:
1. Preheat your oven to 400 degrees F and spray a baking dish with nonstick spray.
2. Combine the smoked paprika, salt, pepper, cumin, chili powder and garlic powder in a small bowl.
3. Place the sliced onion all over the bottom of the baking dish, rub the chicken with the spices and then place the chicken on top of the onions.  Set the lime wedges in between the chicken. Cover with foil and bake for 35 minutes. Remove chicken and let cool slightly, then shred.
4.  For the spicy goat cheese queso, melt the butter in a small saucepan over medium heat and add the diced jalapeño and garlic.  Simmer, without burning, for about 1 – 2 minutes.  Once the butter mixture is slightly boiling whisk in flour to create a roux.   Turn to low and let simmer for another 1-2 minutes until the roux is golden brown and bubbly.  Then, pour the milk in whisking until smooth and combined (keeping heat on low).   Once the roux has slightly thickened add the goat cheese and stir until the cheese melts and is creamy. Taste and season with salt and pepper to your liking.
5. Slice the tomatoes and avocado and tear off the cilantro leaves from the steam.
6. Once the chicken has cooked shred into bite sized pieces.  Heat up the tacos until soft, scoop out some chicken onto each taco and add the vegetables and place a dollop of the goat cheese queso on top.