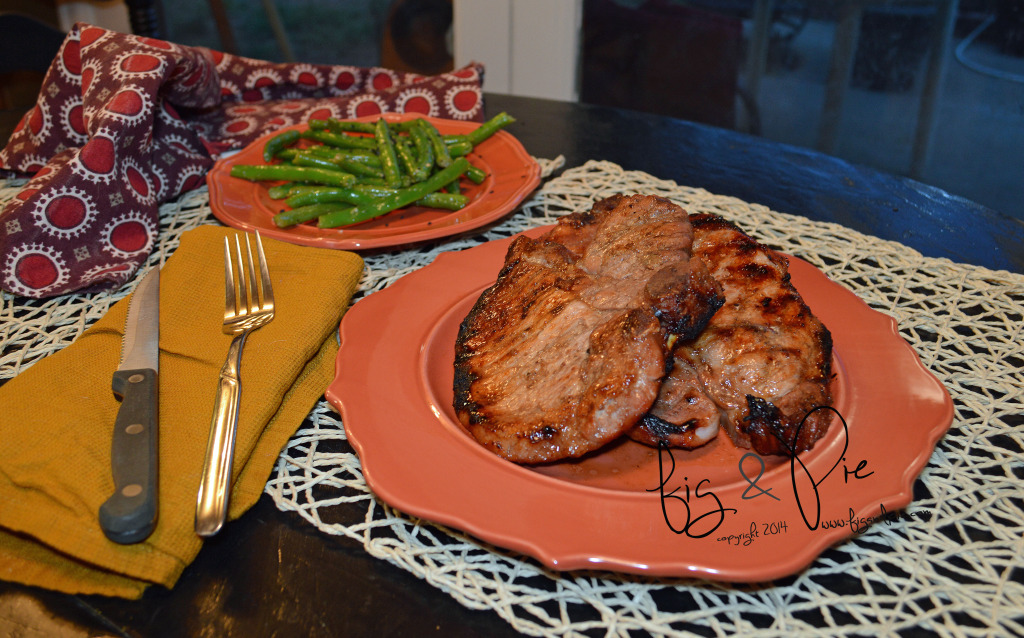 serves 4
time: approximately 1 hour
This dish is pretty simple – just use some red plum jam and add a few spices and you have a marinade.  You could BBQ, oven bake, or pan fry the chops – just make sure that you don't over cook the chops so that they are nice and juicy.  Serve with some rice and green beans, link to the recipe is below.
Ingredients:
4 pork chops
1 cup red plum jam
2 tablespoons rice vinegar
1 tablespoon Sriracha
3 teaspoons ground ginger
1 teaspoon fish sauce
2 teaspoons reduced sodium soy sauce
coconut oil
Directions:
1) Mix together all of the ingredients after the pork chops; place the rinsed pork chops in a gallon sized zip-lock bag, pour in the plum sauce.
2) Let the pork chops and plum sauce marinade for 20 – 30 minutes.
3) Heat up a skillet and scoop out some coconut oil, once the oil is hot (sizzles when water is splashed into the skillet) place each of the chops in the hot skillet.  Cook the chops on high for about 5 minutes each side, until the sides are a little caramelized.  Turn the head down to medium-low and continue to cook the pork chops until cooked through, rotating sides.
4) Serve with Asian style green beans here and a starch like rice if you wish.