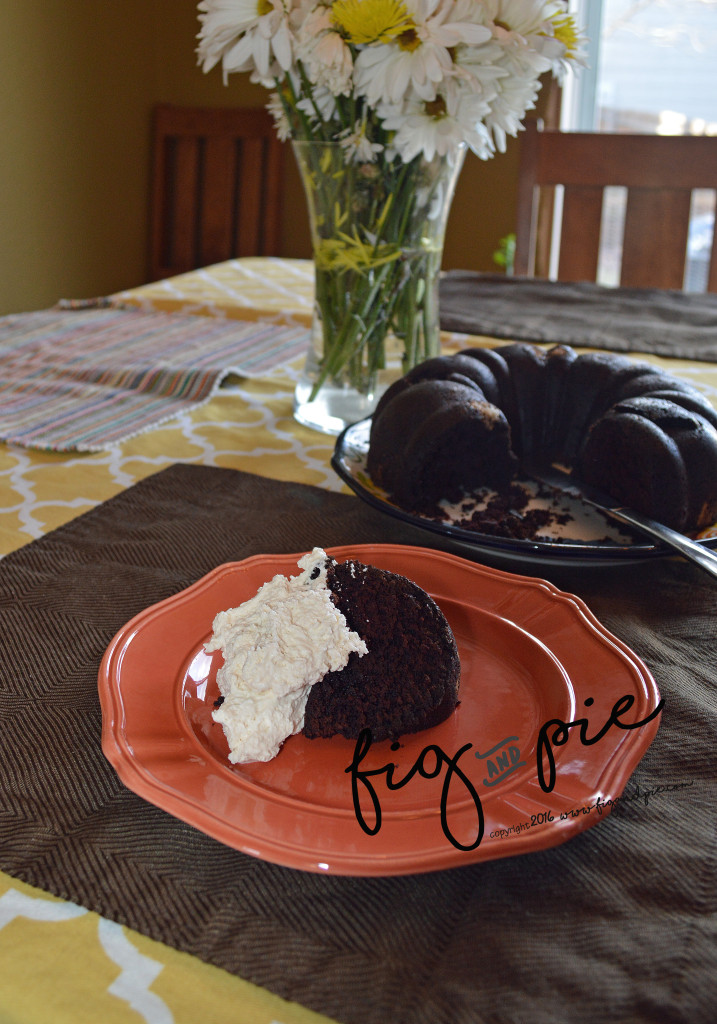 Holy smokes!  This is potentially one of the most smooth, creamy and decadent chocolate cakes that I have ever eaten!  I was a little nervous at first to 1) make a chocolate cake from scratch, mainly due to the altitude (cakes do weird things) 2) make a cake with red wine.  It turns out I had nothing to worry about.  The cake is a little bitter (in a good way), and if you don't like that just add a bit more sugar to the cake batter, or the fresh whipped cream.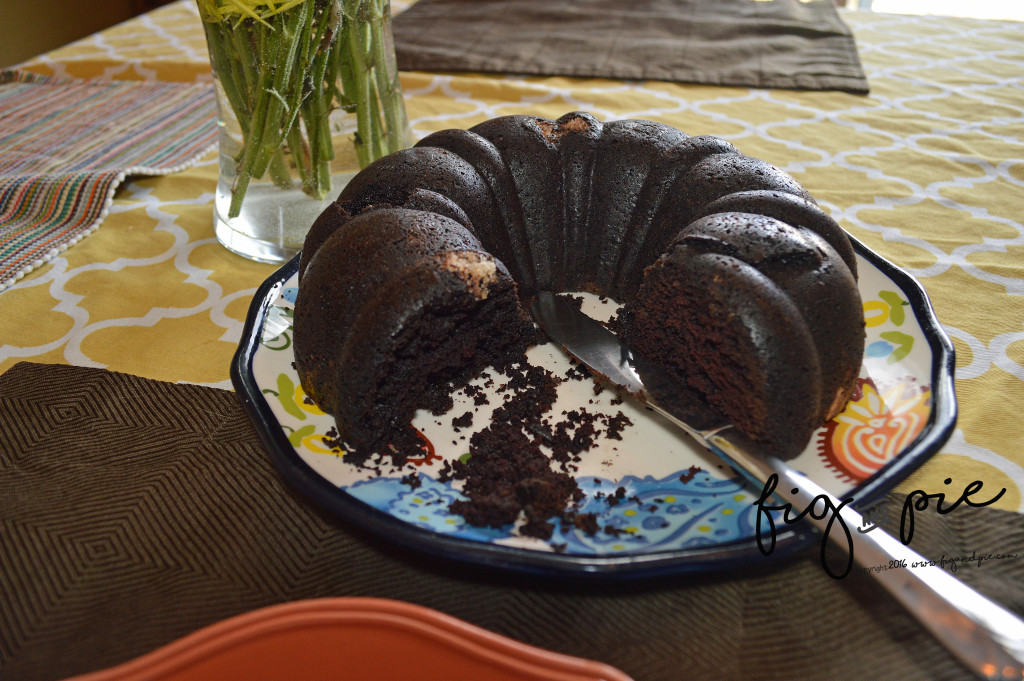 time: about 1 hour
serves: about 12
Ingredients
2 cups all-purpose flour
3/4 cup unsweetened cocoa powder, good 'ol Hershey's unsweetened
1 1/4 teaspoons baking soda
1/2 teaspoon salt
2 sticks unsalted butter, softened
1 3/4 cups sugar
2 large eggs
1 teaspoon pure vanilla extract
1 1/4 cups dry red wine
1 pint heavy whipping cream, for serving
Confectioner's sugar (a few tablespoons), for whipped cream
2 teaspoons vanilla, for whipped cream
Directions
Preheat oven to 350 degrees F, spray bunt pan.
In a small bowl, stir together the dry ingredients: flour, cocoa powder, baking soda and salt.
In a larger bowl cream together the butter and sugar until well mixed and fluffy.
Add one egg at a time to the butter and sugar mixture.
Add the vanilla.
Once the wet ingredients are well combined, add the dry ingredients and wine – alternating in small batches.  Make sure that everything is mixed together – I didn't and that's why there's some light patches of flour or whatever.
Pour the cake batter into your greased bunt pan.
Place the bunt pan on the middle rack, and bake for about 45 minutes.
Once the cake has fully baked, remove from the oven and place on a baker's rack (leave the cake in the pan for a few minutes then carefully dump right side up.
Using a whisk and starting on a low setting (gradually moving to a faster speed) whisk your heavy whipping cream.  Once the whipping cream isn't a milk consistency add the vanilla and keep whipping.  Right before the whipping cream is fully whipped (it'll have little peaks) add the confectioner's sugar.
Cut the cake up into pieces and put a dollop of whipped cream on each piece and enjoy!!!