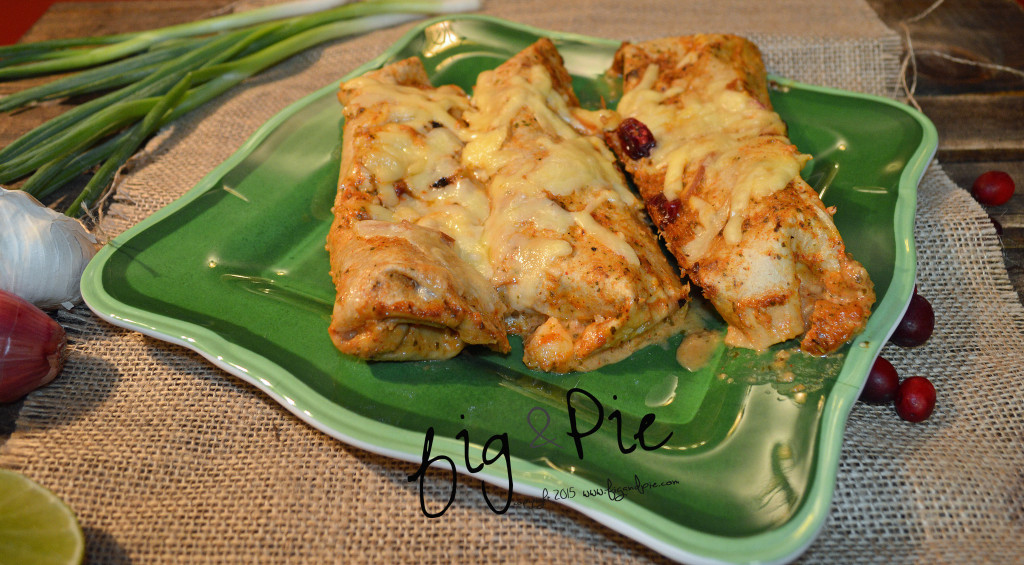 I pretty much love smoked cheese and try to eat it whenever possible.  I had the brilliant idea to make enchiladas with smoked Gouda and roasted tomatillo sauce, I added cranberries to make it even more interesting!  My husband was not really a fan, but I loved the enchiladas.  The only thing that I would change is not putting cranberries on top as they were too tart.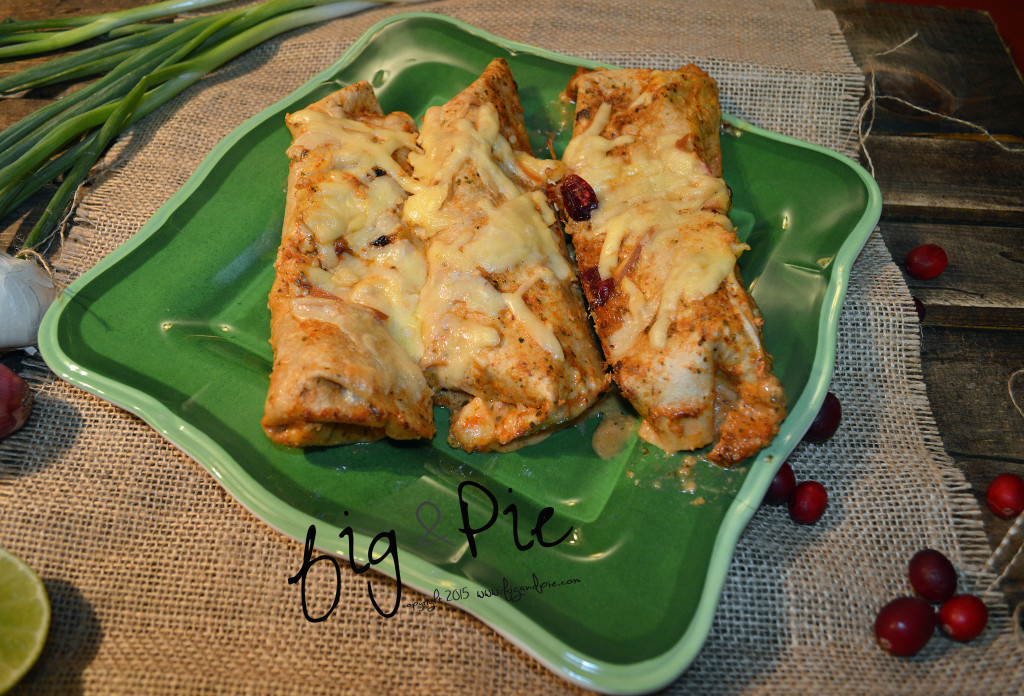 serves 8-10
time: about 1 hour
Roasted Tomatillo Enchiladas Sauce Ingredients
1 1/2 pounds fresh tomatillos, husked and cubed
4 cloves of garlic
2 jalapenos
1 shallot, skin removed
1 lime, juiced
1/4 – 1/2 cup fresh whole cranberries
chicken broth
pinch of salt
Enchiladas Ingredients
8-10 white flour tortillas (or corn, whichever you prefer)
2 chicken breasts
salt
pepper
cayenne pepper
shredded smoked Gouda cheese
green onions, chopped
Roasted Tomatillo Enchiladas Sauce Directions
 Turn your oven's broiler on.
Place the sliced tomatillos, jalapenos and shallot on a tinfoil lined cookie sheet.
Broil for about 5 minutes on each side – you want the produce to be charred but not burned.
Place the broiled produce, lime juice, the whole cranberries, about 1/2 cub chicken broth, and pinch of salt into a Cuisinart.  Mix until completely blended.  Set aside.  Add a little more broth until it's fairly runny.  Add more salt and lime if needed.
Enchiladas Ingredients
Place the chicken breasts into a pot of water – add salt, pepper and cayenne pepper.  Bring the pot of water / chicken to a boil.  Let boil for about 10 minutes, then turn to medium heat and continue to cook for about 20-30 minutes, until the chicken is completely cooked.
Shred up the smoked Gouda cheese.  Chop the green onions.  Set aside.
Once the chicken has cooked and cooled shred with your clean hands.  Mix in a bit of the roasted tomatillo sauce so that the chicken is moist.
Pre-heat your oven to 350 degrees F.
Wrap your tortillas in a paper towel and heat in the microwave for about 30 seconds – you just want the tortillas to be soft to they don't tear when rolling.
Pour a little bit of the roasted tomatillo sauce onto the bottom of your baking dish.
Dip both sides of the tortilla in the roasted tomatillo sauce that is on the bottom of the baking dish.  Add a handful of the shredded chicken, smoked Gouda cheese, and chopped green onions.  Roll and place on one side of the baking dish with the two sides of the tortilla down.  Continue this process until all of the meat has been stuffed into the tortillas.
Pour the roasted tomatillo sauce over the rolled enchiladas.  Sprinkle the remaining shredded smoked Gouda cheese on top.
Bake for about 20-30 minutes until the roasted tomatillo sauce is boiling and the smoked Gouda cheese has melted.
Serve immediately and enjoy!